Another visitor! Stay a while! Staaaaaaaaay foreverrrr!!! :)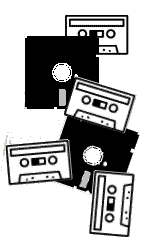 Welcome to the GameBase64 site, formed by a team of C64 enthusiasts from all over the world who wish to preserve the memory of their beloved 8-bit computer for the generations to come.
We do this by trying to preserve all game software written for the Commodore 64 computer before the deterioration of old 5 ¼ disks and common cassette tapes erases them for ever. It is a race against time in order to collect and archive the games themselves, as well as catalogue information on their creators and programmers. So far we have successfully compiled a list of over 15000 entries, complete with screenshots and all information available at hand. For anything we are still missing, we are relying on you, the former Commodore 64 software user, to help us by supplying any bits of new info you might have knowledge of. Any information collected will be freely distributable to all in irregular updates offered for download at this very site.
Our Points/Awards system
By registering in the forum, you'll automatically have joined up with our Points/Awards system. In this system, points will be awarded to you when you do certain things. The more points you get, the better the award you'll receive! We will be keeping a list of the current Top 10 points earners on our homepage too!
Point Distribution

Contribution

Points
Awarded

Posting to the forum

1

Correcting or submitting information for a game
(language, genre, no. of players, ...)

1-3

Correcting or submitting credits for a game
(publisher, year, programmer or musician)

1-6

Submitting a new game
(not yet, we have enough in our queues!!)

10

Submitting a better version of an existing game
(not yet, we have enough in our queues!!)

10

Proving a game is bugged

15

Supplying a web-link to www.gb64.com on their website

25

Submitting a fixed version of a game listed as bugged

30

Submitting a game listed as missing

40

Donating an original game*

50

Donating money to the GB64 project**

500

[* Points will be gained for the first ten games only, allowing a maximum of 500 points]

[** Donation points are distributed only once. Donated money will be put towards web-hosting costs and buying C64 gameware to expand the collection.]
The GB64 Awards

Once you have registered, you start off with, of course, no points. Once you have reached the first point on the awards scale, you will be awarded with an icon which will sit within your profile and be visible to other members on your posts to the forum.


Rosettes


For those starting to move up the GB64 ranks...

Keen Member


50-199 points

Cool Member


200-599 points

Ice Cool Member


600-999 points




Cups


Awarded to those who are dedicated to the advancement and accuracy of GB64...

Commended Member


1000-1399 points

Highly
Commended Member


1400-1799 points

Respected Member


1800-2199 points




Trophies
O

nly for those who have shown steady commitment to the cause...

Honoured Member


2200-2599 points

Outstanding Member


2600-2999 points

Elite Member


3000+ points
Please enjoy the site! We hope you visit again! :)